︎ MALNOURISHED BY OVERINDULGENCE: MATHEW PRICHARD
MATHEW PRICHARD
is a multi-disciplinary artist, originally from Solihull, UK. Mathew is a dancer with National Dance Company Wales and a freelance photographer, shooting predominantly on analogue. Mathew started dancing at the age of three and later trained at Rambert School, where he toured throughout the UK with Rambert Dance Company. He has since performed with Goldfrapp on 'Later…With Jools Holland' and at Glastonbury Festival.
Mathew has previously had his work exhibited at Notting Hill Arts Club as part of 'The Transition', hosted by Cortex. He has been featured by numerous magazines including; Vogue Italia, Trip Mag, The Commission and The Basement. Mathew is currently assistant editor with Cortex.
Mathew has self-published his debut book
'MALNOURISHED BY OVERINDULGENCE'
, which is now on sale
HERE
. All profits from 'Malnourished by Overindulgence' will be donated to the Cleft Lip & Palate Association (
CLAPA
).
Conflict is the term most often associated with the middle eastern state of Israel. A destructive history; an unstable presence currently. Yet this is a space that can enable one to be relieved from the structured nature inherently present in our lives today.
Through the medium of analogue photography, Mathew researched and documented Israel's inhabitants and its disparate culture. A body of work on this complex division was compiled. The imagery within this book explores the juxtaposition between Tel Aviv and Jerusalem and the constraints of ongoing conflict between Israel and Palestine.
Within 'Malnourished by Overindulgence', words accompany the body of photographs. "They are a fragment of my perceptions, notions and desires during and after my visit to Israel".
Beneath its burdens, a deep sense of community is evident.
20 AUGUST, 2018
A DISTORTED SENSE OF IRONY
WINDSWEPT CHEEKS BLUSH
PULSATING RAPIDLY IS THE MINDS EYE
SUSPENDED HELPLESSLY
ITS DISREGARD
INCESSANT AND PURE
19 JUNE, 2018
A PLACE WE CAN'T YET COMPREHEND
A CULTURE OF IMPATIENCE
IT'S THIS THAT WE STRUGGLE WITH
ITS EMERGENCE BREEDS DEPENDENCE
A THROWAWAY SOCIETY
IT'S INSTANTLY INSIGNIFICANT
14 AUGUST, 2018
NARCISSISTIC BEINGS
WE HAVE BECOME
SHELTERED AND WEAKENED
A CLOSED NATURE
A WOLF WITH NO PACK
19 JUNE, 2018
WE'RE GREGARIOUS BEINGS
IN AN UNCERTAIN PLACE
I OBSERVE THOSE WHO ARE FLEEING
ONE FINAL EMBRACE
MIGRATION IS PRESENT
LIKE THE MOVEMENT OF BIRDS
CHANGE SOMETIMES UNPLEASANT
IN SOLUMN, THERE ARE NO WORDS
EMANCIPATION FROM RESTRICTION
THE MIND CAN UNRAVEL
UNTIL NOW MY KNOWLEDGE WAS FICTION
THIS IS THE CONFLICT OF MAMMAL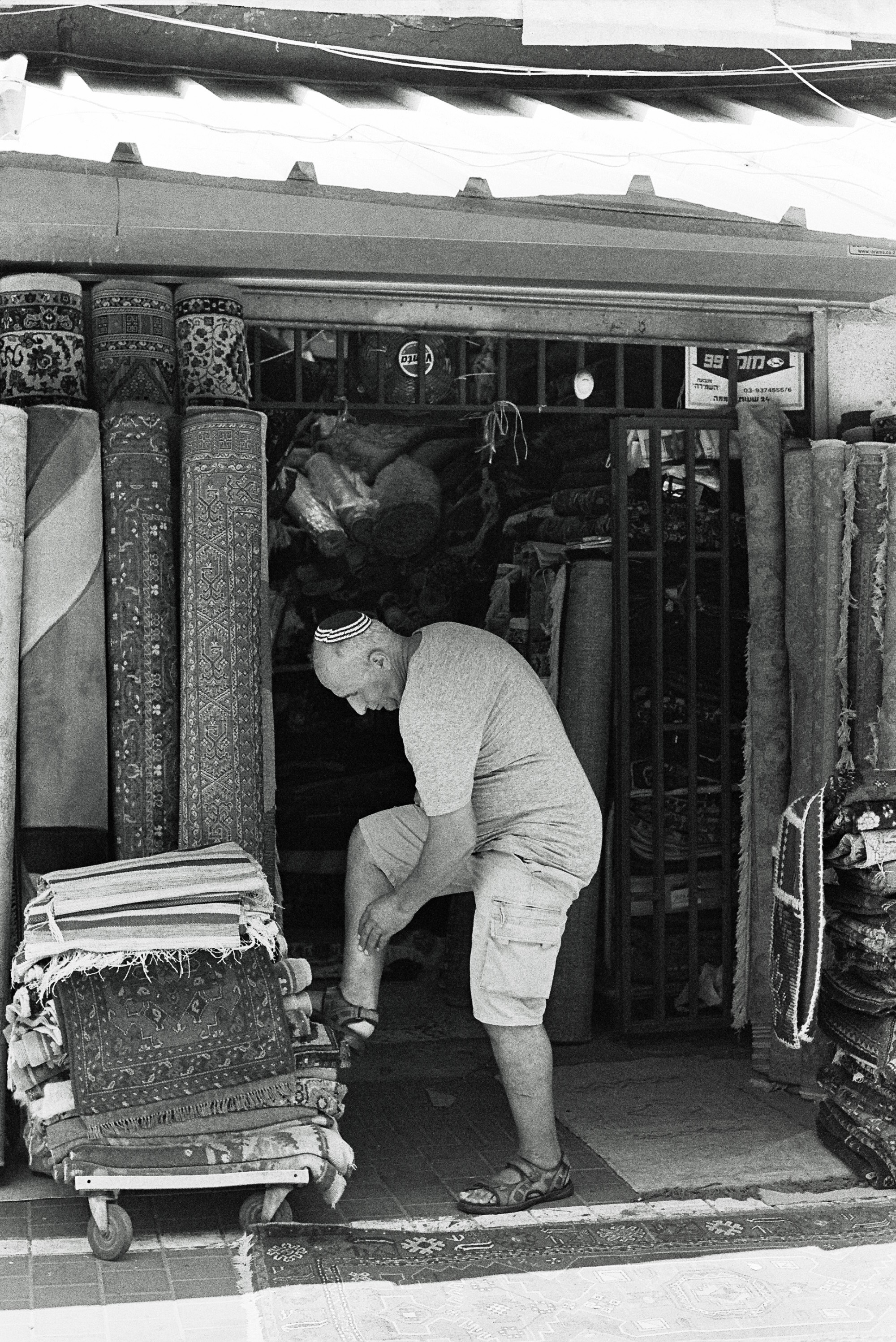 14 AUGUST, 2018
FIND SIMPLICITY
IN THE MUNDANE
REVEAL CONTENTION
IN THE UNDESIRABLE
Photographs and words by
MATHEW PRICHARD
Edited by
MATHEW PRICHARD