︎ LONDON FASHION WEEK MENS AW19
Cortex was invited to London Fashion Week Men's 2019, where we were lucky enough to explore a handful of this year's top brands, both in high-end and streetwear culture. Hosted predominantly in Brick Lane, fashion moguls/enthusiasts flocked the streets outside The Trewman Brewery building to, quite frankly, stunt and catch a glimpse of the drip-worthy outfits on display.

Check out images of the top shows/looks we experienced over our surreal weekend alongside personalised press descriptions below.

BARBOUR

"Leading heritage and lifestyle brand
BARBOUR
celebrates its 125th anniversary in 2019, a significant milestone in the company's history.
To celebrate, Barbour has launched the Icons Re-Engineered collection, a limited-edition range of iconic jackets for men and women that have featured large in the history of Barbour. Each Icons Re-Engineered piece is inspired by a legendary jacket from the archive that reflects a significant period in the company's history, updated into a contemporary style steeped in Barbour heritage, relevant for today.
In support of Barbour's 125th Anniversary, a five-minute brand film was created by the Ridley Scott Creative Group and previewed at the seasonal presentation. Barbour has also collaborated with South Shields born legendary film director and producer on a Director's jacket for men and women. The women's version of the Director's jacket was developed with Sir Ridley and his daughter Jordan Scott who is a filmaker and photographer."
BOBBY ABLEY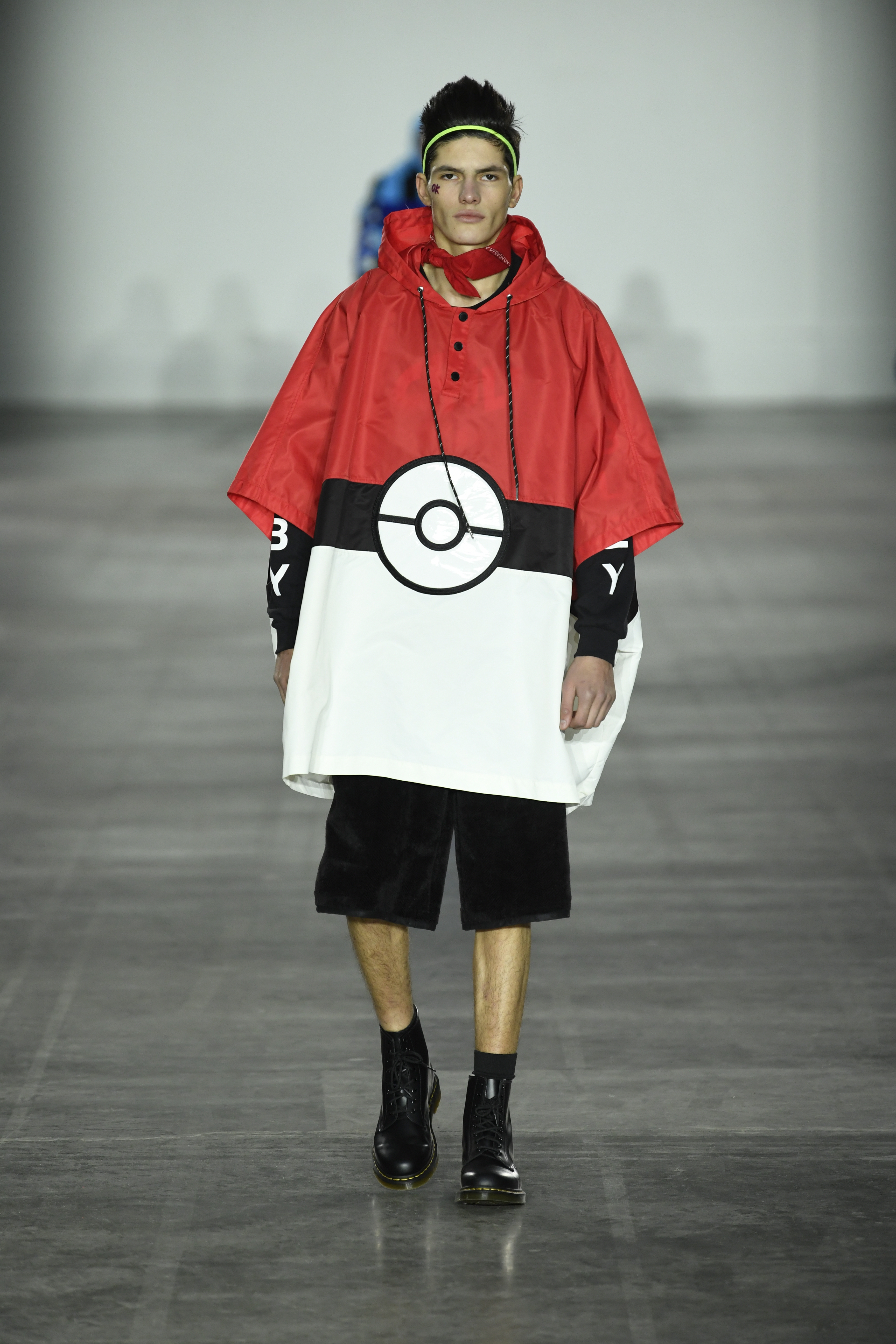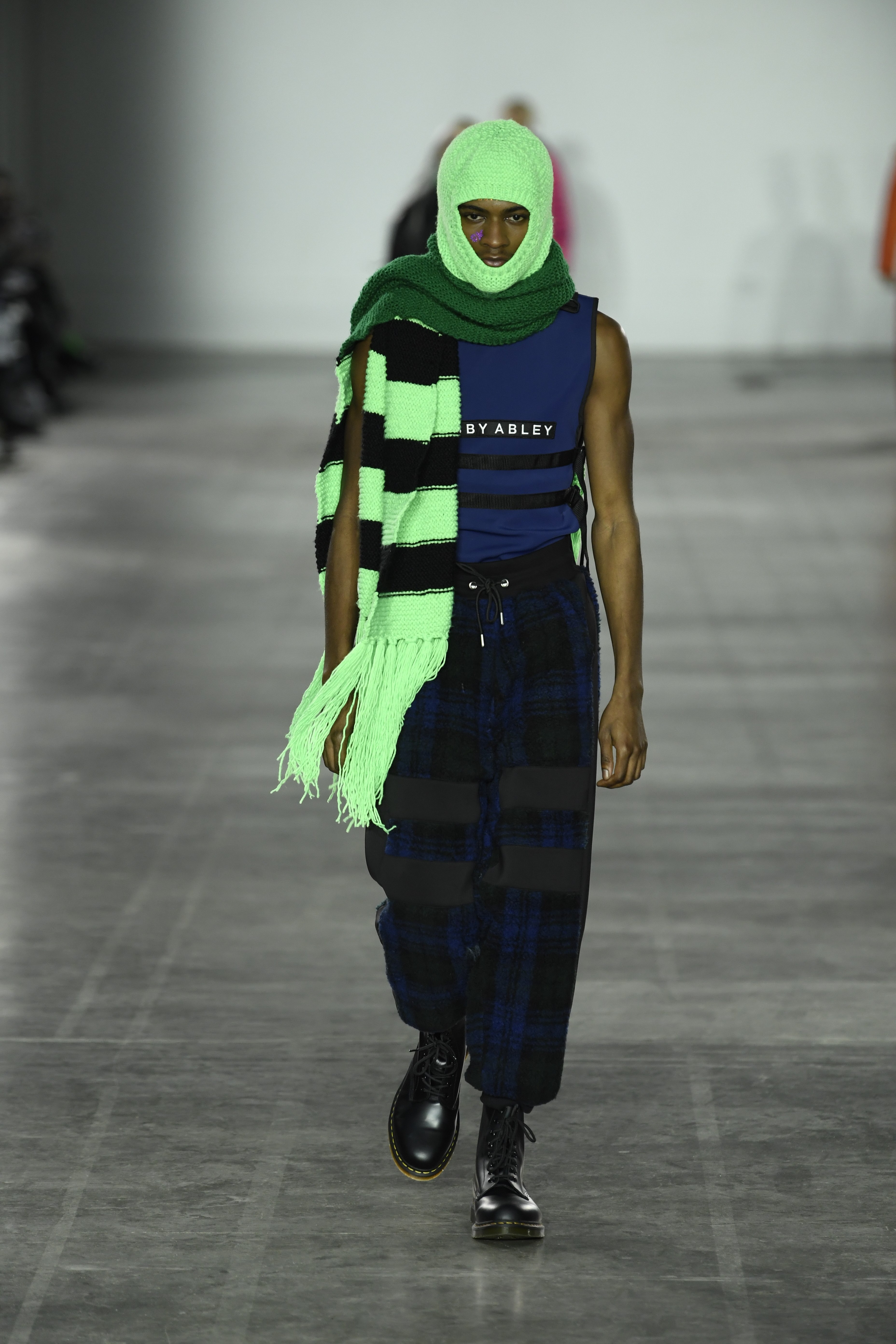 "For Autumn-Winter 2019,
BOBBY ABLEY
takes inspiration from his family and hometown of Scarborough, where he worked on the collection.
Abley revisits his childhood; balaclavas, scarves and baby blankets are all replicated, hand knitted by his mother (and other relatives) and incorporated within the collection as one-off pieces. The family team of knitters also created cardigans and jumpers in fluorescent colours – a palette which recurs throughout the collection.
The rest of the colours in the collection are inspired by Abley's favourite characters from Pokémon. Fiery oranges of Charmander, soft lilac of Mewtwo, powdery blues of Squirtle and of course, the unmistakable sunshine yellow of Pikachu. These hues appear vividly throughout the collection, along with the characters themselves as repeat motifs. The Poké Ball is interpreted as a technical poncho, oversized polo shirt, backpack and cross-body bag, whilst Pokémon-inspired football kits see a return in acid neon.
Abley's characteristic sportswear-inspired and technical fabrics feature heavily, with the addition of corduroy wide-cut trousers, white vinyl cut in to jogging bottoms, and a blanket tracksuit with appliquéd leather lettering spelling out 'Whatever Forever' – the wording of one of the designers many tattoos.
Finally, a nod to X-tina, one of Bobby's constant inspirations – comes this season in a boxy leather jacket embroidered with the singer's portrait, and trousers inspired by her look from her Stripped and Bionic albums."
DANIEL W. FLETCHER
"Looking to his own heritage,
DANIEL w. FLETCHER's
autumn/winter 2019 collection is a celebration of the North. With a rich history of textile manufacturing, the area's influence permeates in his collection through the use of fine fabrics from British mills, super-fine merino wools in Prince of Wales check, houndstooth for tailoring and double-faced scarves made at Yorkshire's historic Abraham Moon & Sons mill.
The collection is a homage to the factories, the talent, the art schools and the craftmanship that has long existed in, inspired and fueled Great Britain. Like all designers working out of this country today, the very real threat of a divided existence is pertinent to his practice and output, materialising in a collection that champions traditional craft and industry."
Words by Co-Founder
BENJI REEVES