︎ INTERNATIONAL WOMEN'S DAY EDITORIAL: NICKI KNIGHTZ, GEORGIA LOWE & YIIGAA
To celebrate International Women's Day, Cortex produced an editorial with three talented, rising musicians. Rapper
NICKI KNIGHTZ
and soul/r&b singers
YIIGAA
and
GEORGIA LOWE
link up to discuss the trials and tribulations of being a female within the music industry.
Check out the conversation/editorial below...
Tell us a bit about yourself…
Nicki
: My name is Nicki Knightz, I'm an artist. I'm 1/2 of 'The Knighthood Society'. I'm 23-years-old, born and raised in Hackney, East London to a British Mother and a Nigerian Father.
Georgia
: My name is Georgia Lowe/GLOWE. I am 20-years-old and I'm based in NW London.
Yiigaa
: Yiigaa, I'm 21 from the South.
In three words, how would you best define your music?
Nicki
: Raw, innovative, unique.
Georgia
: Honest, conversational, real.
Yiigaa
: Escapist, fluid, calming.
Growing up, which artist influenced you the most?
Nicki:
Who influenced me the most growing up (artist-wise) would have to be my older brothers 'LeftfieldLouis' and 'Juno'. They would create videos on their Mac desktop my father had bought them. I would sneak in their room/when I was allowed in, watch their videos and be so heavily inspired to the point I wanted to be just like them. They were one of my biggest inspirations growing up. They inspired me to write my first piece of music.
Georgia:
Hannah Reid, the singer from London Grammar. I think her voice is so beautiful and I used to practice doing harmonies over her CD in the car on my way to secondary school . Her tone of voice and melodies really resonate with me.
Yiigaa:
Frank Ocean is an incredible lyricist. He uses metaphors and nature to describe his feelings. This truly inspired me as it's making people feel. His harmonies and use of different parts of his voice is also very atmospheric.
Who would be your dream female artist to collaborate with?
Nicki:
My dream female artist to collaborate with right now would have to be IAMDDB! I'm a massive fan of DDB and love the sound she is creating. I love how much 'musical drip' she has from her vocal chops and her nonchalant attitude she possesses through her music.
Georgia:
Ari obviously would be a dream come true but also Lily Allen is a huge inspiration of mine. It would be really cool to work with her. Little Simz is also amazing. Just too many to choose from!
Yiigaa:
I would love to collaborate with Tracy Chapman, her voice is so soft and raw. I'd love to learn about her writing process and what makes her stay true to herself.
Do you remember a specific moment in your life that sparked inspiration to begin a career within the music industry?
Nicki:
I remember quite a clear memory. I remember my friend at the time inviting me to a show at Hackney Empire where local artists were performing/competing at. It was probably my first show that I had ever been to, so I was obviously in awe anyway. But it was only when a female who rapped took to stage to perform, did I realise this is what I also wanted to do. I became overwhelmed with the feeling of missing out. I wanted to trade places with her there and then. I remember saying to my friend I want to do this.
Georgia:
I think I've always known I wanted to sing and perform - with my dad being an actor I've grown up with the ups and downs of the industry. It was just being a part of my life. My dad has probably always sparked my inspiration.
Yiigaa:
I remember being in sixth form at 16. I was going through my first proper break up and feeling like the whole world was collapsing and feeling so unable to breathe. So, I just started writing down everything that made me feel broken, and getting home and voice recording it and being like "wow, I feel so much better".
How do you process and unite your inspirations when writing songs?

Nicki:
To be honest, I don't ever plan when I'm writing. I just write and subconsciously what ever has inspired me or stuck out to me during the week, ends up being the concept of the song. I create based on whatever mood I'm in at the time.
Georgia:
Often I take inspiration from random stuff I see or hear in my day-to-day life. I write it down in my notepad or notes on my phone then just take it to the studio. I always think my best songs come from just turning up at the studio with ideas rather than a whole song in mind because I think stuff always works best when it's in the moment.
Yiigaa:
I literally write in poetry form, and it can be anywhere. I make mind maps sometimes, or just write down pages of words. Words and tunes come separately at first and when they come together it's like wow! I love writing the morning after a night out because I have this weird moment of clarity.
What does female empowerment mean to you?
Nicki:
Female empowerment to me is everything! Feeling empowered as a woman was/still is something that is often considered rare. Females are often considered weak/powerless by the opposite sex and even by ourselves at times unknowingly. Being an artist who is a female gives me a voice and makes me feel like I'm able of being the change I often feel society still hasn't fully embraced.
Georgia:
For me, female empowerment means knowing exactly what I want and understanding that the only person that should have the power to stop me being successful is me. At times, I have let other people, particularly guys my age, affect how I view myself and led me to question my abilities. Today, I think pushing myself to my full potential, regardless of anyone else's opinion is so important. So many women around the world don't have a voice. They will never get to be in the position I am in and have the same opportunities I have. So, to take what I have for granted or to be afraid to be bold is insulting to those women less fortunate.
Yiigaa:
Female empowerment means unity, loving each other, believing each other, supporting each other, working with each other. But most importantly, it is also about being a voice for women across the world that may not be able to speak out.
In your opinion, why are women still fighting to be taken seriously in the industry?
Nicki:
In my opinion, some women are not taken serious in the music industry because of what they have to say. As an artist, a lot of women still favour the "sex sells" narrative and I myself feel it's very played out. I want to hear about your story, your reality, how hard your childhood was. I want to hear about topics that actually have depth. I don't want to hear about your sex life in every song.
Georgia:
I think women are still fighting to be taken seriously in the music industry and all industries because of other women not supporting the sisterhood. I hate the narrative that being a feminist is 'cringy' or 'embarrassing' just because people don't understand what it means to be a feminist and the stigma against that word. I mean, men need to support us too but when it's women belittling other women that just makes my heart heavy.
Yiigaa:
We have to live up to such a high standard and being independent it's hard to live up to that without financial help from big labels or connections. Not all women want to be pop stars and it's hard to be taken seriously in a field which is predominately filled by men. You can question people's intentions but you just have to stay true to yourself and work your butt off.
Has there been a time where you felt you weren't taken seriously?
Nicki:
Yeah of course! Couple years back I was doing shows/open mics quite frequently and often felt, when I got up on stage as one of the only females to perform, a shift of energy in the room. I felt I needed to do more than the boys who had gone before me and also because I was a female, I had to either be the best or nothing. There was no in between which does created added pressure.
Georgia:
I guess when I was at school no one took me seriously when I said I wanted to sing and act. It didn't bother me much at all because I think I've always known exactly what I've wanted. So their opinions didn't matter. However, coming into the industry, when it comes to the nitty gritty stuff like splits, royalties and anything to do with money, I think being a young and innocent-looking girl means people think they can get away with being cheeky as I am somewhat inexperienced. That being said, I am really lucky to have a great manager and people I can trust to help me out when it comes to that.
Yiigaa:
Yeah, when I started out not many people took it seriously, but you have to be your own biggest supporter. It takes one person to believe in you.
What can the industry do to support more women?
Nicki:
To support more women in the industry I feel what would help a lot is to not compare one female to another, which is often the case. With men, it's not as much as a competition as it is with women simply because there are more men who seem to be in the limelight.
Georgia:
I would love to be able to mix with more female musicians and like-minded women. I mean, I can seek them out if I tried but I'd love there to be more networking events for females on offer to me. I want to be able to perform with an all female band and I've found it hard seeking out the right people. I think there should definitely be more done by the industry to help us find each other!
Yiigaa:
There should be more platforms for independent women artists that just aren't about rap and more girls collaborating, more girl producers and managers also.
Which other up and coming female artists are you currently listening to?
Nicki:
Females I'm currently listening to at the moment are IAMDDB , Little Simz, Young MA and Lexii Alijai.
Georgia:
Lava La Rue, Karla Flores, Tertia May. Man, there's SO many. My girl Josie Man has the most beautiful voice and I can't wait to see what she does with her career. She deserves to be heard.
Yiigaa:
Daniel Wizard, Elisa Imperilee, Tess Kharyn, Baby Pink, LCYTN.
What's next for you?
Nicki:
I have a lot of exciting projects/ideas this year. You can expect a lot more experiments in my artistry. I'm trying to do a lot more shows this year too! I'd love to say this year will be my year!
Georgia:
I just want to keep making music that I love and I'm proud of, then anything that comes with it is a bonus. I also really want to start collaborating with some new singers sooooon.
Yiigaa:
I'd love to explore different genres, working with more underground artists, getting into producing, shooting more short film visuals and shows!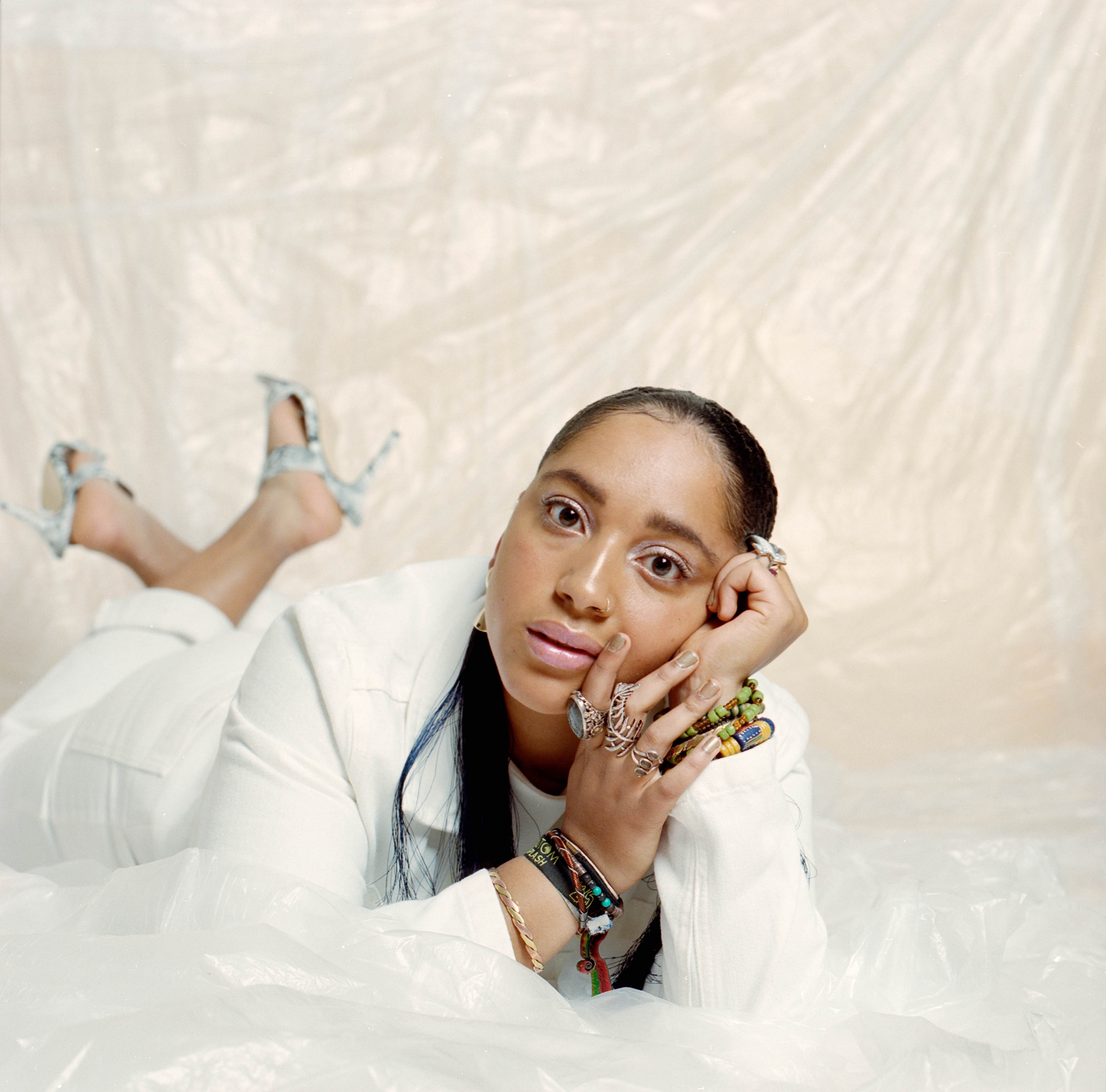 Credits:
Direction -
COREE JAVON
/
SERGIO PEDRO
Photography -
JOEL SMEDLEY
Styling -
JOSHUA MEREDITH
Videography -
JOE RICHARDSON
Hair & Make up -
SHAMIRAH SAIRALLY
Writing -
BENJI REEVES
&
NOUR HASSAINE
Brand List:
Tops - Urban Outfitters, Nike
Jackets - Schott x Fila
Bralet - Whyte Studio
Skirts - River Island
Dress - OhHeyGirl
Shoes - River Island, CAT, Simmi, Sketchers, Whyte Studio
Earrings - H&M