︎ INTERVIEW : LONDON FILM PHOTOGRAPHER SHANE VINCENT
London born-and-bred, film-based documentary and portrait photographer,
SHANE VINCENT
, who goes by the name Vincent Chapters, captures the true reflection of North London today. Using the environment as inspiration for his work, Chapters represents lifestyle and culture throughout his portfolio, giving you an insight into today's modern city life. Shane who's now venturing into the world of motion, has discovered his element. Check out our interview with the talented photographer below.
Tell us about yourself and how you got into photography?
I'm 27-years-old, born in North London and have lived all over North my whole life so far. I got into photography around the days of Myspace, I was taking pictures of my mates for their profiles with the Sony Ericsson camera phone. It was a little hobby at the time and kept doing it until it became a 'career'. I love my city and get about, so thought why not take photos of some of the stuff I see.
What is your favourite subject to photograph?
I started shooting mates and London life, and naturally moved with that into street photography. Now, I'm transitioning more into directing, preparing shoots more, casting and all of that. With the intention to move into motion picture very soon.
In five years, where do you see youreself in the industry?
Definitely motion picture in some capacity.
What made you transition to motion picture?
I got bored of stills man. I felt like I'd hit a wall with it and couldn't push through it. Motion has always been the goal but now felt like the right time to enter it.
What's been your favourite shoot to date?
There's been a lot of shoots I've liked and enjoyed. I always like shooting carni because everyone comes on good vibes you know. But the Canon job I got years back really changed my life at the time so that was special to me. At the time I wasn't in the best place but has a lot of naive hope and belief, and it actually happened, maybe a bit early because I was writing the biggest invoice I've written to date and it was my first proper gig. I also had a wicked team who showed me the ropes and understood where I was. Shout out Leeyah and Mark.
What's your preferred camera to shoot with?
I currently shoot with a Canon 5D 3 and occasionally a Canon AE-1 for film. I'd love to try medium format or a RED camera but haven't had the chance yet.
What elements are you looking for when looking to create a shoot?
Just genuine people and good vibes.
If there was one thing you could change about the industry what would it be?
That freelancers got paid on time.
What was the idea behind the valentines open street shoot?
Ah, you saw that? Wicked. You know what I'd lost a bit of motivation, to be honest, at the time. Also needed a bit of quick cash. So thought why not try busk it with photos. People want pics for their gram and I'm out here moving about London with my camera a lot anyway so why not find a spot, set up a little area and gets locals or whoever involved and take their picture. Didn't really end up charging but met some wavy people. I'm pitching this to a couple of brands at the minute so hopefully will be doing it again soon.
What is the most rewarding part of being a photographer?
It's allowed me meet some proper sick people along the way and hopefully one day I will have my little slice of London life shown and documented.
Is there any piece of advice would you give to young creatives trying to make it today?
Don't overthink, stay active and grind even harder when you're up.
Where do you draw inspiration from for your work?
I don't know man, a lot of musicians and films used to a lot. Now, I feel like I am a voice of North London in 2020 as a lad in the mid 20's, so tryin to listen to myself a bit more instead of looking at everyone else for answers.
Are you working on any projects during this difficult time?
Yeah, I'm making a free visual book for people to download and look at when they're bored. Hopefully will provide a couple people with a little escape from reality quickly. When I was 18 my mate showed me these guys 'Boogie' and '13thwitness' photos and I was like rah, ain't seen anything like it before. It gave me a needed escape at the time, so who knows, maybe it will help someone out.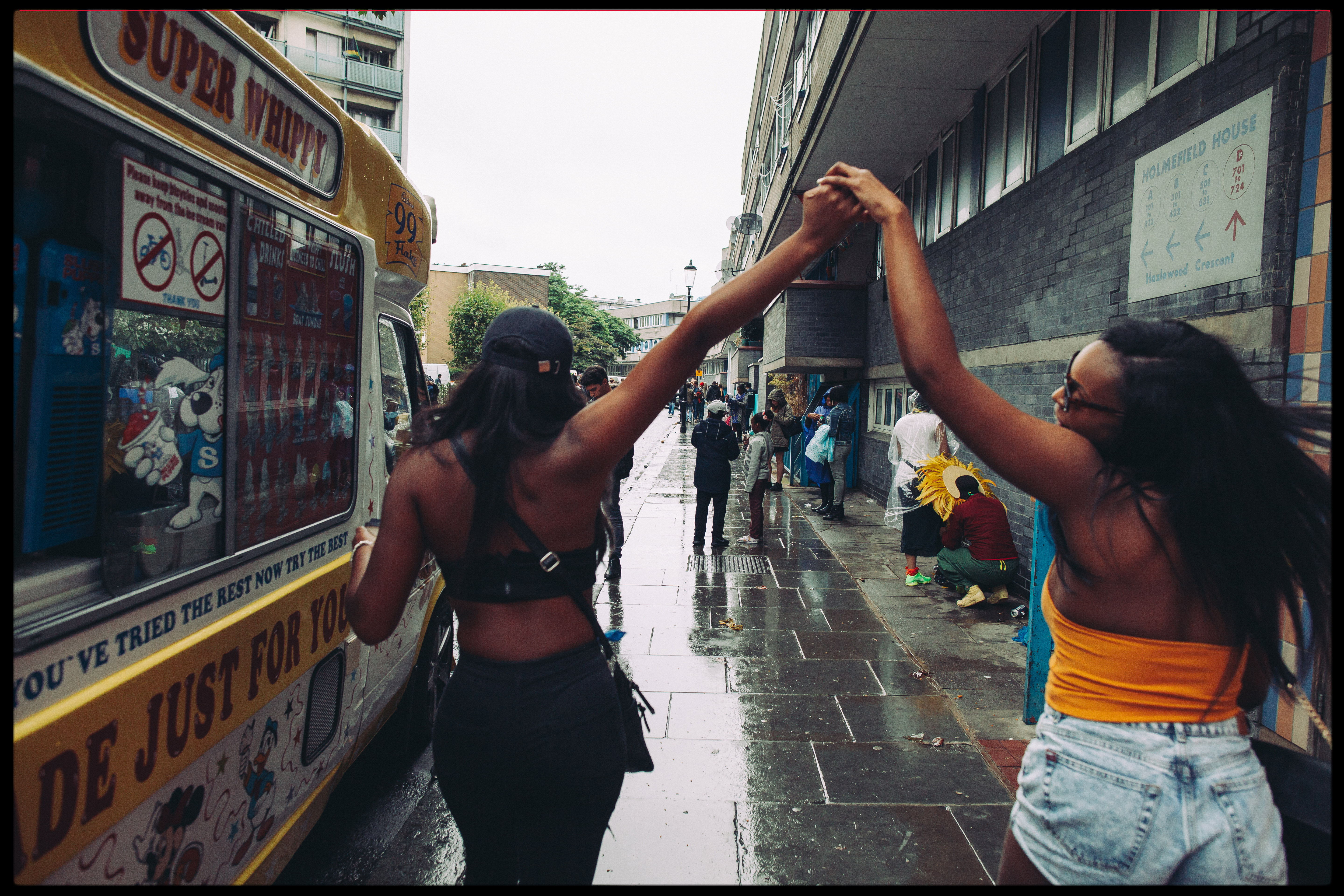 Interviewed & written by
LOUISA WILKIE
Photographs by
SHANE VINCENT