︎ INTERVIEW: LAUREN FAITH


London-born producer, writer and artist LAUREN FAITH is gearing up to release her debut EP 'Cosmic' this month. Previously dropping a slew of singles, including her hit record 'Just a Little', 'River Runs Deep', as well as her latest track 'D.M.T.' which has been championed by the likes of Annie Mac, Jamz Supernova and DJ Target. Already working with the likes of Kaytranada and Craig David, Lauren is setting the bar high for her promising career, alongside aspirations to become the first female to win Producer of the Year at the Grammy Awards... we're here for it.

Cortex sat down with Lauren to talk all things music, including her new EP, inspirations, creative process and more below.


You've got a new EP coming out in July. Yes. Can you tell me a bit about that and what we can expect?

So the EPs called 'Cosmic' - there's going to be three tracks on it. Two out of the three tracks are produced by me 100% and the other track is a production by Kaytranada. It's called cosmic because the whole E.P. has kind of a psychedelic, journey felt kind of vibe to it and it kind of takes you on a journey. So that's why I kind of went for the word 'Cosmic'.

What were you trying to convey in your latest single 'D.M.T.' and is that going to be on the EP?

Yeah D.M.T.'s going to be on the EP. It's kind of like escapism. In the present world, and I guess musically as well, it's just about something I experience and put into music form - it would be a waste to not share it.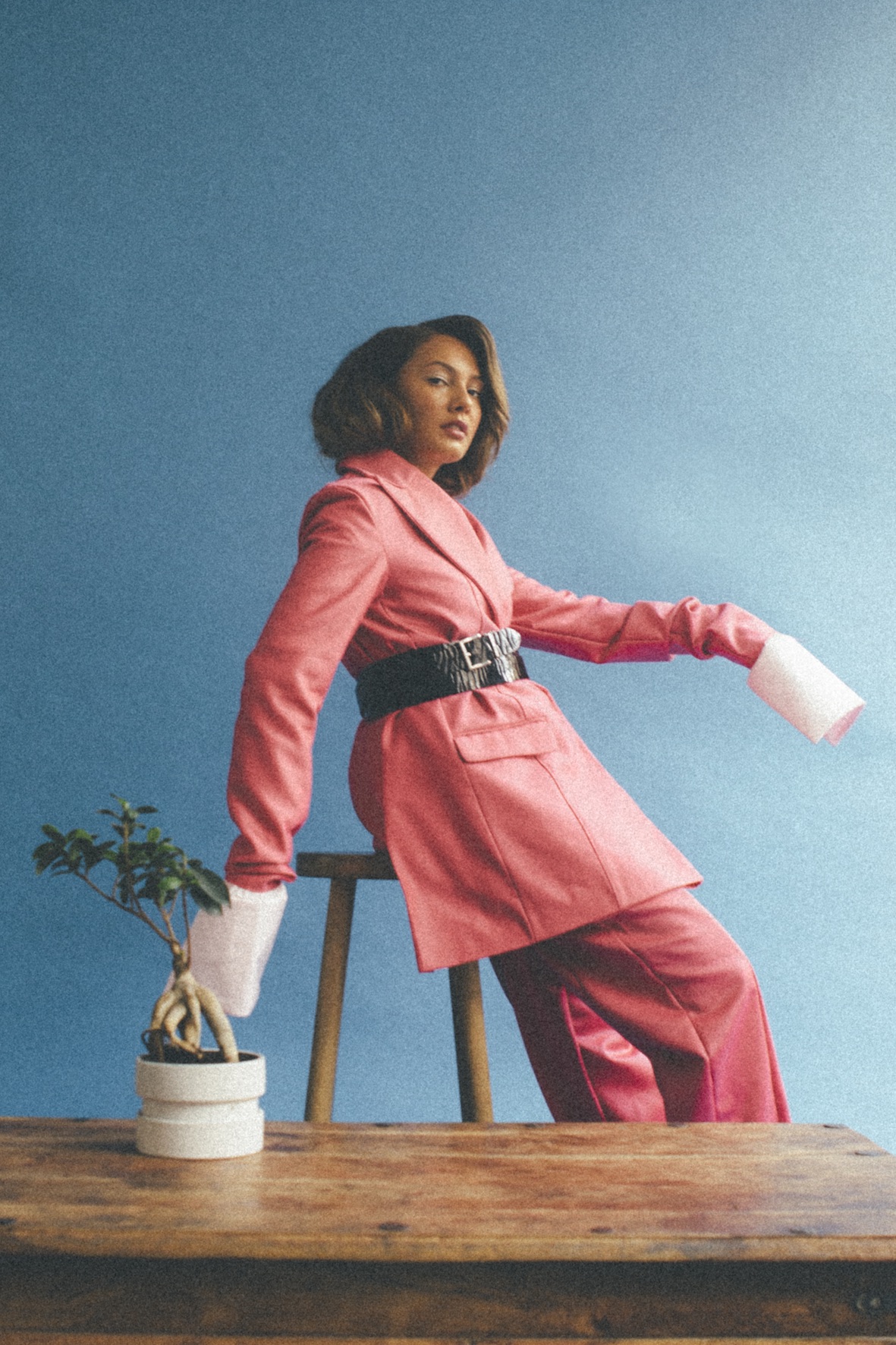 Suit: Rihanna Morton // Blouse with extended cuffs and oversized shoulders: Rihanna Morton // Belt: Pritch London // Ring: Plaitly
You said Kaytranada is on the new EP. What was it like working with him on 'Just a Little'?
So I've worked with Kaytranada since 2015. I first worked with him when I co-wrote 'Got It Good' which is on his album and on Craig David's. And I also wrote another one called 'Sink or Swim' which also went to Craig's album the same time. But, I've actually never worked with him in the studio. Not many people have because he just sends his beats over. I've met him. I knew him before I worked with him but I've actually never been in the studio with him. He always sends beats to me and I just did him at home in my studio.
How did you even link up with him? How did it come about?
So, working with him came about because Craig's manager got in contact with me and asked if I'd be interested to write for him - and obviously I said "Yeah" - but then knowing him, I knew his manager and I used to go to the shows whenever he was there and K would always recognise me and say "Hey", so he already knew of me and we followed each other in the kind of like SoundCloud days. It just kind of just naturally happend. I always had wanted to work with him and that was my opportunity so I took it!
Have you got any other collaborations in the pipeline?
Yeah, I've definitely got more stuff with him to come out when I've released my album. We have a few songs but there's a few people that I'm working with that are really exciting that I don't wanna let out yet!
Tell me about your creative process - describe to me what goes through your head whilst making a track.
So, I like to start like playing some chords on the keyboard or guitar or make a bassline or make a beat. And whatever mood I'm in kind of inspires what I create I guess. I might create like a really funky bass line and it feels really cool so I want to write something kind of like funky or something. I have this song I've just written the other day, it's called 'Closed Emotions' and in my head I was just talking about something just with a friend and the song title came from that. So, it changes all time but mostly it starts in the creative part by making something and then we go off that.
Suit: naya rea // Necklace: Plaitly // Nike Air Force: Model's own // Retro-futuristic Shades: Vintage Chanel
Where do you draw your inspiration from?
70s funk. I like people watching too. And just like things that I've experienced. I think it's important as a writer or an artist to live and experience things and do fun things so that you can write about it. So, everything is written as something to write about I guess.
You obviously produce your own tracks as well. How important is it for you to be able to have full creative control over your music?
So important. It's kind of funny, it's like. It's just so natural to me that I don't think about it. But like, I only feel in control of everything when I'm doing it all myself. There's a few people, there's like a few producers that I absolutely love working with don't get me wrong - like Kaytranada. But I prefer to just do it myself. And I think in the state of the world in this music sense, 2% of the music industry is female producers. So, there is an outcry for female producers. So, we need more of them and I guess someone has to lead the way and inspire people - we've not had big enough role models, so it is important.
Do you see yourself as a trailblazer for female producers?
In the next two, three years that's my mission for sure. Definitely. Yeah.
What are your other goals?
I would like to be the first woman to win Producer Of The Year at the Grammy Awards, 'cause it's never happened. I'd just like to have a successful career of making music that I love and have a great friends that love it too and just doing shows - everything music, I guess.
So, you've been championed by the likes of Jamz Supernova and DJ Target. Who else would you most want to be recognised by and respected by in your craft?
Gilles Peterson. I love Annie Mac - she played 'Just a Little' actually I was gassed because I love Annie Mac. She's like a proper tastemaker isn't she? I guess Common. I think it's Common who does a talk show, it's his podcast. And I like the hip hop people too. But you'll hear that further when we get into the 'Beat Take' vibe.
Blouse with extended cuffs and oversized shoulders: Rihanna Morton // Pants: Vintage Prada // Trainers: Reebok // Earrings: Plaitly
Who are your biggest inspirations and influences musically?
Jamiroquai. Roy Ayers. Pharrell Williams. Rich Harrison who's a producer of Amerie. Did you ever hear like "this is one thing that's got me trippin'"? He produced that and just like the drums and everything is mad. I'd say mostly producers.
What's your favourite part about production?
Drums and bass - when you listen to it in this room and it's just around you, I love it when the mix is just perfect and you're just in this world.
What can we expect from you for the rest of the year?
The new EP, dependent on schedule timing there should be at least two singles from the beat tape. Yeah, music! My first music video. Some remixes from the EP and then some collaborations too.
What is your definition of creativity?
Freedom. The freedom to do whatever you want to do without feeling you're judged and being your truest essence of yourself.
Credits:
Photography by
GRACE BRISTO
Creative direction by
BENJI REEVES
Styling by
JON-ERIC HEGEMANN
Styling & creative direction assist by
SERGIO PEDRO
Interview by
BENJI REEVES
Make up by
IRENE TEDJ
Production by
CORTEX CREATIVES