︎ INTERVIEW: CAITLYN SCARLETT


Independent London-based singer/songwriter Caitlyn Scarlett is gearing up to release her new EP in Spring. This'll be her fourth project since breaking out solo with her debut EP 'Jurassic Jukebox and Other Drugs', released back in 2014. Scarlett's 'Red Tape, Vol. 1' and 2 followed years later, which saw huge progression and direction for her work.

Since then, the 24-year-old has made waves in the industry, morphing her electro-pop sound even further and working with a plethora of established artists, including Rudimental on their track 'Ghost', as well as having the opportunity to be apart of Rihanna's writing camp when she was just 21-years-old.

Cortex sat down with Caitlyn to discuss working as a DIY artist in the industry, her new track with Ms Banks & Mae Muller and her goals for the future.

Tell us a bit about your background and how you got into music.

Well, I've always been devoted to music and studied musical theatre at school. I wrote poetry a lot as a child and as a teenager those started turning into my lyrics. I moved to London when I was 17 to pursue a career as an artist and somehow also fell into the songwriting business which is now also a big part of what I do.

You've just released a new single 'Drama' with Ms Banks & Mae Muller - how did that come about?

It actually started as a collab between Banks and I. Originally I thought I was going in to write hooks for her or something, so I was really excited when I realised she wanted to do something together and encouraged me to sing on verse two. We sat with the song for a while and weren't sure whether she or I would release it really. Eventually Mae stepped onto the scene and lay down a verse, transforming it into this awesome girl power trio bop. She ended up releasing it featuring Banks and I, everything worked out so well.

What was it like working with them?

Really great. They're both beautiful and empowered women who are a pleasure to be around. During the promo process for the song we spent long chunks of time together and ended up becoming friends and having a lot of laughs. They're both super cool and fly, whereas I'm pretty awkward, so we had some funny moments including them trying to teach me how to 'hit the woah' and me making it look like I was milking some imaginary cow, much to their delight.




Your Instagram bio says you're unsigned. What do you think of record labels? Do you think being unsigned and DIY is the best route to a successful music career in this day and age?

I feel kind of neutral towards them. Being a songwriter means you often interact with labels and artists signed to them, its part of the business and I find it interesting looking through both sides of the glass. I've found my own path away from the traditional route (as an artist) by following my instincts and refusing to compromise on certain things that matter to me. I'd really like to be signed in a way, but only under the right set of circumstances.

Describe to me your creative process.

It's always evolving, I think the main part is the constant collection of thoughts, emotions and phrases going on in the back of my mind every day. I gather stockpiles of philosophy or pop culture and eventually they culminate into something musical when I'm in the studio. Some of these ideas I keep on my phone or in notebooks, most of them just in my head.

You've also worked with Rudimental on 'Ghost'. What was it like working with them?

It's really cool to be featured on a project by a group as influential them. Funnily enough, when I first started releasing music on Soundcloud years ago now, they followed me on twitter and DM'd me suggesting we get into the studio. I had exams at the time and we couldn't make a date work, so it was nice to get round to doing something all these years later.


Who are your biggest influences and inspirations in music and beyond?

Musically I'm very inspired by Kate Bush, Bob Dylan, M.I.A, Depeche Mode, Madeleine Peyroux, Beck.. I could go on! One of my more random idols is Queen Elizabeth the first, I've always had an obsession with her. Having lived so long ago, she serves as an inspirational figure who is notorious yet obscure enough for me to idolise in both fact and fantasy.

How important is it to you to be surrounded by like-minded people in life?

That's a hard question, I find it difficult to make and keep friends sometimes due to differences in priorities, values or worldly interests. In that way I've developed a sort of 'black sheep complex', but also been lucky enough to find really strong bonds with a small circle of people who I love dearly and wouldn't dream of trading for oodles of 'mates'.

What are your goals for the future?

I just really hope to find a way to sustain happiness and live well. On a more tangible note, this year I'd like to pass my driving test, buy a van and fix it up with my dad. So I can live in it and travel round Europe with a dog.



Can we expect anything else from you in the near future?

I have an EP on the way that I'm really reeeallyy excited about. I've also been learning how to produce, so potentially a lot more productivity, experimentation and concentrated sound. I want to make videos and vlogs too, because I've started to come out of my shell as a person and I'd like to share more parts of my life with an audience.

What is your definition of creativity?

The compulsion to make or do something for no reason other than just wanting to!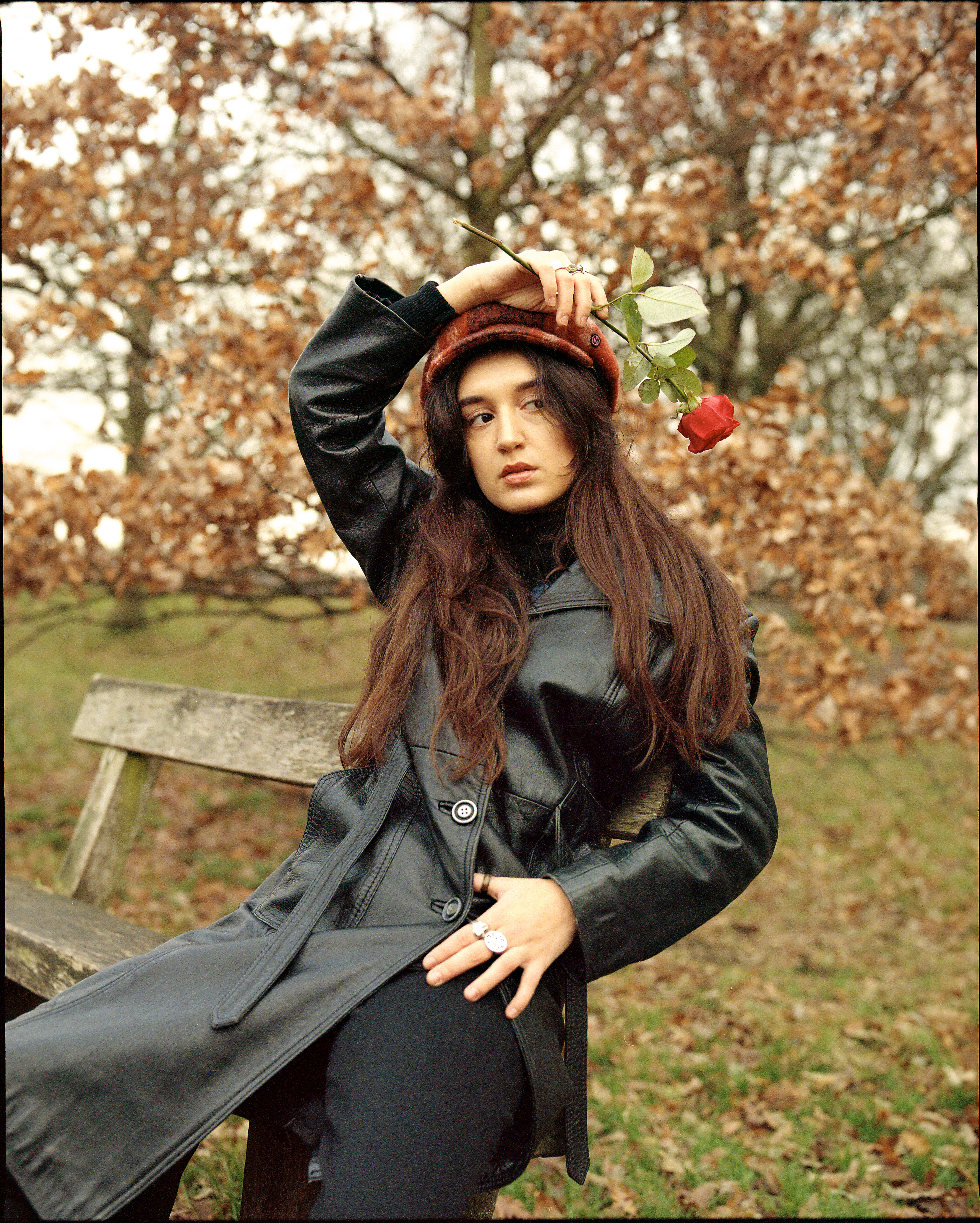 Credits:
Photography by
TJ
Produced & interviewed by
BENJI REEVES
Styling by
SERGIO PEDRO
Styling assist by
SHAN CHRISTIAN
Makeup by
IRENE TEDJ