︎ 'ALIEN!' EP RELEASE & INTERVIEW: DREAM MCLEAN
Cortex sat down with
DREAM MCLEAN
, in anticpication of the rapper's new EP,
ALIEN!
, OUT NOW, available on all platforms.
How did you first discover music?
I ain't got one of them like 'oh yeah I grew up in a fucking household where they were playing reggae and all of that'. The first CD's I bought are too embarrassing, so I normally say So Solid Crew but I know that if you go back a bit further it was Five…I love that Five album *laughs* Slam Dunk (Da Funk). One thing that changed a lot for me was when my Uncle told me about this Nas album - Illmatic. I remember he showed me Big El - Ebonics as well and I was just like, 'yeah man, this is so sick'. As soon as we had internet access I used to just sit there on the computer looking for some niche underground shit.
Would you say that the UK or US scene has influenced you more?
I can always remember being straight down the middle. If anything, it would have to be UK. Growing up it was hip hop or grime…can you spit bars on 140 or on 90bpm? I was always half and half. Guys like Nas and Jay Z influenced me; as did mixtape rappers like; Cassidy, Fabolous and Jadakiss. I was always East coast innit. My biggest inspiration has come from this side of the water though. I grew up with Movement, Ghetts, Ghetto, Wretch and Scorcher. They were the lyricists.
What led you to first pick up a mic?
I grew up with my boys Siris and Wallace Rice. They were rapping from early on and Siris' mum got him this Portastudio when he was young. So, he was recording his first mixtapes in his bedroom when he was 13 or 14. At this time I was writing stories, but they rhymed. Like these mad just lyrical fucking stories…it was an outlet for me, I would just write and it would have these fucking punchlines. I remember that's where grime came into it because my first lyrics were grime lyrics.
You showed that you could create a grime scene in Colchester. What affect did this have on you personally?
Si had this Portastudio, so I did my first three mixtapes there. Everyone did their mixtapes there. We had our Colchester style, but obviously we were an hour away from where it was all happening in London. You couldn't tune in to the Pirate radio stations. So, we were the scene. There is more happening now and I'm not saying that it's all because of us, but a lot of these kids are doing it now because we started doing it.
It has obviously made it harder in pretty much every sense. But I embrace it fully and I don't sound quite the same. My approach is always going to be that little bit different. But I think we've grown into our own sound over the years and now were doing the band, Monster Florence, which is some different shit. That is complete Colchester shit, we just linked up with a bunch of musicians in a studio in the area. That is fully the Colchester sound.
How did you first meet Chase & Status?
I was chilling on Twitter. I was in bed at 1 o'clock at night. A tweet came through and at the time they'd just put out their first album and it was all that I was listening to in the car. I didn't know what dubstep was really. I heard this tune and to me it just sounded like grime but really musical. That was the shit that I wanted to make at the time. It was fucking high energy. But to say that I was a fan would have been an understatement.
Anyway, I just got a tweet that said 'yo what's good?' and he slid in to the DM's. I think he saw Daily Duppy, a grime daily freestyle that I did. Pat Rage from Chase & Status, showed them this freestyle. So, I owe it to him really. They reached out to me and asked if I could do a freestyle over Saxon. I did that and I would go out and do shows. They were the dubstep days! Then they said they were serious about signing me and we made an album.
Was getting signed to MTA Records by Chase & Status a turning point?
No, it was weird because before that I was building something organically and it had momentum. I was putting out so much music, more and more people were buying into it. We were building something in Colchester and at about the same time I was chatting to Pro too, and there was talk of signing to him. I was sceptical of everything but I signed with them because of creative control. Green told me straight up, 'come with me and make pop' and I was like 'fuck off bro'.
How did you cross paths with Professor Green?


I was on Facebook and some guy called Stephen Manderson messaged me. I didn't know who the fuck that was. He went in to my inbox and was like 'yo, its pro green, you're sick, I was thinking we could do a track and get mike skinner to produce it'. I was just laughing, like who's this dickhead?

Did you not think it was him?


No bruv! He's saying he's Pro Green and his name isn't even Pro Green on Facebook, it's Stephen Manderson? Obviously, I was like, 'yeah cool man that sounds good' just in case it was him. I remember Twitter was new at the time and people had a blue tick if they were verified. So, I tweeted him and he replied. I remember at the time I was working at a tv shop and I went out in my break to take a call from him and when I went back in I just said, 'Listen man I haven't got to be here, fuck this shit, I'm about to hit the big-time baby'. I was a fan of Pro, he is one of the best rappers in this country and Mike skinner was part of one of my favourite albums of all time, he's a fucking icon. I ended up making tunes with Pro and we've been on tours together, he's my boy innit.
How have you found the transition from being with MTA Records to being without a label?
It's weird to adjust now to being without a label, without a manager, without anyone. I'm trying to sit here and have someone feed me grapes, when really no one is about. I want to get some money together so that I can do it for myself. Everything is a process, which has led to where I am now and in terms of music it's where I want to be. It's hard to keep that vision and keep that focus. But for me I have literally never seen anything else. I don't see it like I've got a choice.
Did you have any other interests growing up?
I taught myself how to use Photoshop in school. I used to design everyone's mixtape covers and that was a little earner for me back in the day, the Bebo and Myspace days. It's mad because you can't change your Myspace name anymore. Blacks myspace name is still BlacksTowerBlockDreamsOutSoonIPromise…his fucking mixtape never came out bro. We're still waiting for it *laughs*. Siris had this mixtape called 'Misunderstood' and for the cover he wanted it to be like Scarface. He didn't have a white suit, so I had to Photoshop him. He's a white boy and the only picture I could find was of 50 cent in a white suit. He had big black hands *laughs*. There is a lot of shit to look back on, which I wish could be deleted but its all part of the journey.

What would you say is your best career memory so far?

One moment that sticks out was in 2011. I played Outlook festival in Croatia. It was the first time I'd be on a plane. The show was on a stage of about 1,500. We were getting ready to go on, drinking back stage and my boy Si came on stage with me. He was going to come out and spit his verse from Coke and Vodka and then I was going to come out after and spit mine. We were going out after D-Dubble, Footsy and P Money, and they were basically grime dons, just killing it.
Everyone was going nuts so I was shitting it. Si was even more drunk than me and he goes out and nobody knows who we are. He forgot his bars, so he just said 'make some noise for my boy Dream Mclean'. I came out and spit my verse and people were stood there like, 'who the fuck are these guys?' We were getting nothing from them. The second tune was a disaster. These boys at the front were sticking their middle fingers up at me so I looked at them smiling. I stopped the tune and had a stroke of genius. I just said 'everyone in this place stick your middle fingers up in the air'. The whole crowd are doing it and I just stuck my middle fingers up at the boys at the front. That got everyone participating and we pulled them round.
The last tune was 'Saxon', and it was high energy. It was fucking jumping in there and the barrier at the front started rocking back and forth. It came down and everyone piled over it and rushed the stage. Everyone was on the stage with us having it up and some girl broke her arm! I didn't know this until afterwards…they never booked me again. The promoters pulled the plug on the music and the crowd were chanting Dream Mclean. It was crazy to go on my first ever flight, and then go from my worst ever start to a show to the best. That's why that moment will bang forever, because I turned it around.
How would you describe your current sound?

Bruv this is the fucking hardest question. At the moment there are a lot of different sounds that I'm working on. My sound has gone a bit slow motion after all the drugs. It's different now, it's a bit more nonchalant and laid back. I don't take myself seriously at all, there is always kind of a jokey element in the lyrics that I'm delivering, but it's not a joke. I take this rapping thing seriously, but it's playful. I've got a lyric on the new album and it kind of sums up a lot, it goes "I write clever songs about dumb shit". In terms of the sound of the music, this new album with Someguy is a little more left field. It's experimental and it follows on from the dark production undertones of Greyscale, but then there are some more light-hearted tunes on there. There is some moody guitar shit on there, I'm experimenting a lot more with my voice in terms of singing because of Monster Florence.

Has it been a lot of fun putting this new album together, considering you've been much more experimental?

It was fun when I was making it but finishing the album was dry, I hated it. I've literally heard these tunes so many times. I know how I want it to sound. Some days I will wake up and listen to it and be like 'argh this is actually shit' but it's just because I'm in a bad mood. You're constantly battling with yourself trying to make it sound perfect but you have to have a balance between being that guy who just puts it out or being that guy that won't because you're trying to make it perfect.
I just want to put it out because that's what you feed off as an artist. You put everything into a record until you hate it and then you put it out and people tell you they love it and that makes you think 'oh ok sick' and you feed off that. This is what takes you into the studio to make the next project. If you don't put nothing out you get nothing back, you will starve.
Where do you tend to write your music?

Things will pop in to my head at any given moment. I always write lines out on my phone when I get an idea. A lot of ideas I've had six hours into a rave, when I've been off my nut. I came up with 'Doing Bits' at a rave to the 4/4 beat. I wrote it down on a voice note. Or when I'm trying to go to sleep I get a lot of good ideas. You think you will remember it in the morning but you don't, you never remember it in the morning. Always write it down, don't worry about the 10 minutes sleep you'll lose.
Pressure is what makes me write in terms of finishing something. So, most of the time I will come to the studio and then I know I have to write. A lot of my writing gets done on the way to the studio. I like travelling, obviously I used to come up from Colchester and it was an hour-long train. I always put my headphones in and would start writing a verse. I am one of those last-minute guys.

With the 'Greyscale' album did you get the response you initially expected from it?

It was an overwhelmingly positive response. Even to this day people talk to me about that project. I made it with that intention. In my head when I was making it the label were telling me that I needed something for the club. Obviously, they're a label and they've got to think about the money bruv. But at the time I genuinely did not fucking care about money.
Was it a good choice that you didn't go down the route of making club beats?
Yeah it's a good choice but I've also got to work 9-5 doing something that I hate. I just wanted to make something that was always going to be my first album. I want my career to be as long as possible. I can't listen to that album anymore because as an artist I wouldn't do it like that now. But that's the creative way. It doesn't matter how much time passes, I can never look back at that album and say that it's not where I was at, at the time. That album encapsulated a period of my life where I was living fucking loose. I got into fucking drugs and girls. It was debauchery. That's why it's got that darkness and this electronic kind of feel to it. I had some disagreements with the label making 'Greyscale'. They wanted me to make stuff for the club and I wanted to make shit for the headphones.
We had disagreements so they didn't put the money into it that they should have done. There were no videos or anything apart from 'DWID'. This was the only thing to market and push the album. It cost £400 to make that video. In terms of how successful we were, it was obviously a reality check after that. The first time I spoke to anyone from Chase & Status was about 3 months ago, since dropping the album in 2014. I didn't want to be on the label anymore because it was clear that we had different interests. That was the point where I could have probably just not made music again.
How has working with Monster Florence affected you as an artist?
To me the Monster Florence shit is like a side thing, not in terms of priority but in terms of my sound. My soundscape, my fucking palette of music. The Monster Florence stuff is just here but I need to do all of this other shit too. I have to go and see Earbuds and make some trappy beats and just do some jiggy shit. But when you go and do the Monster Florence shit it's song writing and it fucking developed me as an artist. But then projects are their own sort of sound in a way. It does overlap though.
Do you find inspiration from outside of music also? You can say FIFA! I don't mind *laughs*
FIFA is the enemy bruv, FIFA is the fucking enemy of creativity. I will lose hours to FIFA career mode just sitting there when I could be just writing bars or something. Wait forget FIFA, I was about to just start talking about how I just like chilling.
My inspiration comes from just living man. Sometimes when I don't feel inspired I need to just go out and be around people. It just comes from anywhere and everywhere. It's a search bruv, trying to find inspiration, sometimes you don't know where to look for it and you don't feel like you're in control. But I have the confidence that if I'm hitting a wall, I will get there somehow. It's kind of fun, It's a game innit.
'Bruises' seems to have a different feel to your other music, which tends to be quite playful. Whereas, this was quite a serious subject that you were discussing. Does this song reveal another side to your personality?
I remember coming up for an idea for a track called 'Bruises' and it should have been on the album. But it never was because of sample clearance. I was annoyed about that because I was proud of that song. I just remember I was walking home because I couldn't afford a cab. It was going to be about this relationship with this kid from the perspective of the mum getting beat on. And then the perspective of the dad and the perspective of the youth at the end. It was going to be loosely around experiences I had growing up. But I wanted it to be its own sort of concept story. I've never even done this but I wrote it down in my phone like a script. I had the story in my head and it took me about three years to come up with that.
There were a couple of tracks on that album which were a little more introspective and deeper. But that one was more about a subject and people feel that, people connect with you as an artist and as a person when they can tell that something has come from a place within you. It's not all just jokes and fucking persona. But you've got to have fun with it man, music is about having fun. I guess it just reflects me bruv because most of the time I'm just on some fucking…'six cans of red stripe'. I'm that Dream more often than not. But then obviously sometimes things happen, which I have to talk about, so it's kind of a representation of that I guess.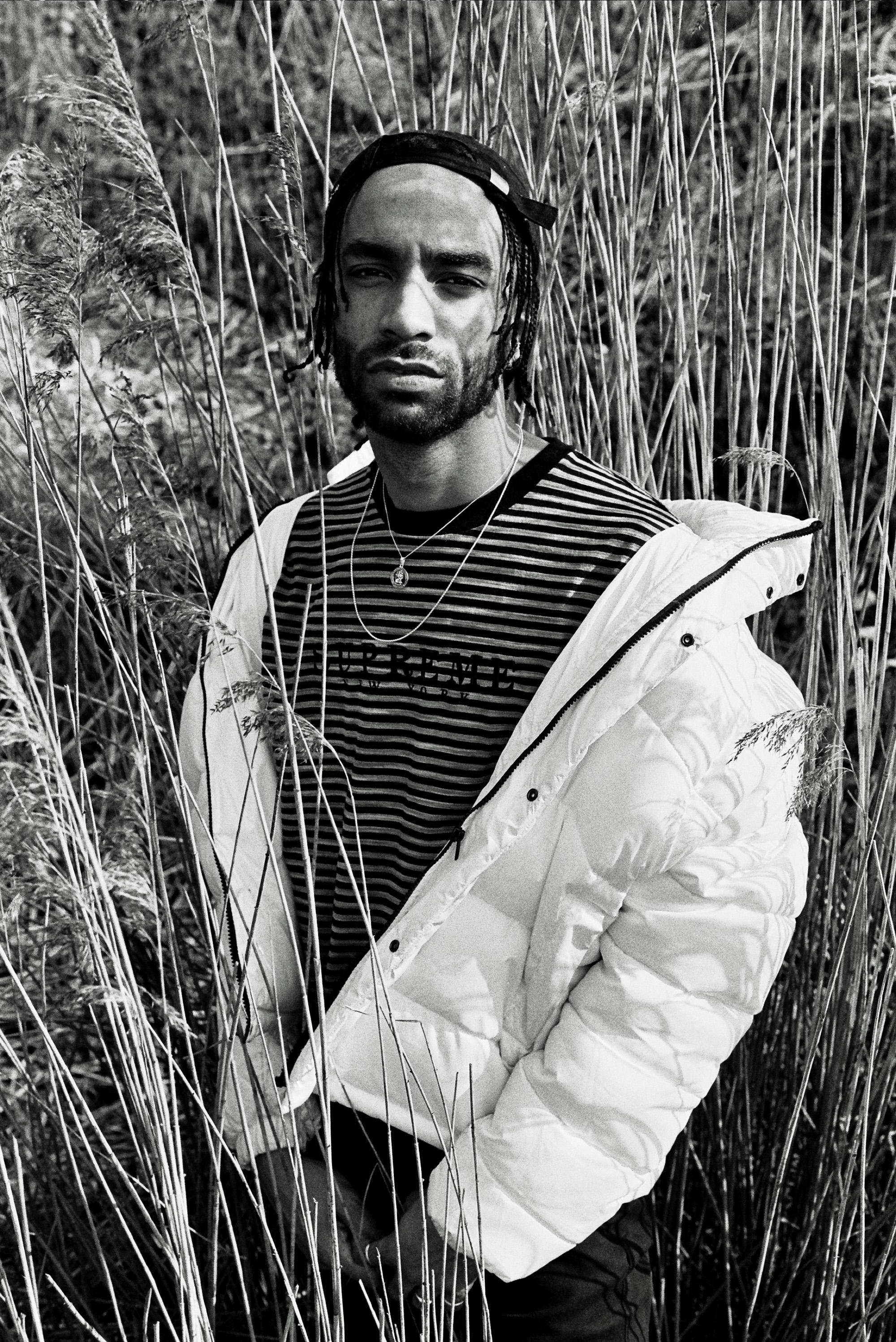 Do you prefer the performance side of things or the process of creating?


The live performance has always been a fucking huge part of what I do. The shows are always an extension of the silliness…my personality is always something that comes out in the shows. I have a laugh man, I have a good time no matter what on stage. I like my tunes innit *laughs* if you lot don't then whatever, it's fine. One of my favourite moments in the whole process is when you've made a new tune and you go home and are waiting for the producer to send it to you. I'm pissed if I can't listen to it straight away. But sometimes not getting it until the next day is even better. Because it's that moment when you listen to the tune as listener because those bars are fresh and I don't know what I'm going to say next. You are listening with fresh ears and you only get to do that once really. I love that moment of just listening to the tune and then I will continue to listen to it for next two weeks on repeat, until I hate it and want to go back to the studio. There is nothing like being on stage man. I have been in the studio for a fucking long time and I do miss the stage bro. I can't wait to get all of this new music and perform it. I'm done with the studio for the minute.

How do you go about finding new listeners?


Yeah man that's the trickiest thing. These days it's different and everything is very visual. You've got to have strong visuals and you've also got to have a strong aesthetic. I just want to make music bruv but I do love the video side of it. I want to make sick videos and have a sick album artwork. I've never really known how you get new listeners, I think all you can do is make fucking good shit and be consistent with it. The way I see it, I've got all of this material built up and I don't want to have no let up. Build it slowly. People aren't out there refreshing my page. They've stopped doing that a long time ago, they've got new favourite artists now. I've got to put it out there and see who the fuck is still listening. I know people have been waiting but I don't know if they're still waiting or how many of them are still waiting.


Music is fast moving, particularly with platforms like Soundcloud and Spotify isn't it?


It's true it's true. There's so much out there that it's very difficult to stand out. That's why I'm in this place right now where I don't know where my music is going to fit in and what it's going to do. I'm just doing what I've always done which is making my best shit. You can't please everyone, you can't fucking barely please anyone. Just try and please yourself because at the end of the day that's real. If you're making something to appeal to someone else over what you want to do, that's selling out.
When you try and jump on fads or what's now…it's gone. The true creatives and innovators drop what they drop and then that turns into what everyone else is dropping. For that to happen you've got to drop stuff that doesn't connect sometimes. People might not be ready for it.

What music are you listening to at the moment?


I'm listening to a lot of UK shit recently man. I think were in a good place. Before I first got signed, we were getting our shine in the mainstream. You had to make pop otherwise you weren't eating. Popular music like; Tinchy Styder, Pro Green, N Dubz. In the past couple of years, we've had this revival of grime. It feels like the world is interested in what London has got to say as a city and what is coming out of the UK. It has enabled a new generation of artists to come, who don't have to fit in to the norms.
In America you've always had Jay Z and Kanye. But then you've also had Vince Staples and Earl Sweatshirt who are making some weird shit. The scene is so massive that you've always had that in America. But our scene has just been junior. Now you see Lil Sims come out and become successful and that's kind of the equivalent to Mick Jenkins over there. We have artists like Slowthai and Octavian coming out. They're going to lead the way, they're going to innovate because they're able to do something that's different and not have to even think about where it fits in. They're making shit that tomorrow people are going to want to make. We are running it now. I fuck with Slowthai heavy, Earbuds introduced me to him and I remember he showed me 'Jiggle' in the studio. His shit is different. His videos are on a different level. I've been listening to Daniel OG, Octavian, Samwise and House of Pharaohs. Jorja Smith is wavy, she's going to be a superstar. I remember first hearing 'Blue Lights'.
After you've released this EP what are your aspirations?
The plan is to do shows and start building again. I need to get the fan base active and perform at more shows for them. It was something that I didn't do enough, I could have toured that 'Greyscale' album but like I said when that album came out, everything just stopped. I was just not productive, not proactive, I was in a negative space. Even talking about this I can't really process it, I'm never really good with things like feelings, so that's why at the time I couldn't process what was going on. But I have obviously come through that into a space where I'm feeling positive about the music again.
If you were to give your younger self some words of advice would you have done things differently?
I could go and say don't do this and don't do that because that didn't work out but then I might have done something and be worse off. So, it's that whole thing of if you go back in time don't fucking touch anything. I would say it isn't about money, but don't be so far that way because you do need money and it will come in handy in the future. Learn about the business side more and manage your money. Don't fucking spend it all. Back then my whole fucking persona was that I don't give a shit. You get to an age where you realise you can't be broke, you need money, now you've got to go and get a fucking job. I probably should have moved out sooner because that would have put pressure on having to keep up money every month and it would have made me grow up a bit. I was just living like a rapper at my mum's house.
Are there words you could pass on to the Cortex Creatives in pursuing a creative path?
It's about balance. Balance between being a perfectionist and someone that is inconsistent and puts out work with no real quality. Take pride in your work but people do need to see it, people need to hear it.
Always remember when you're having a good day and you're feeling yourself. When you're going through bad days just know you're having a bad day. But know you're going to get back there. I guess its all about trying to remain as focussed as possible on the end goal, that's the main thing. Have a goal...this is where you start getting into advice that I don't even take myself *laughs*. But I know what you have to do and you have to set yourself manageable goals. Do something every day towards that. Wake up, 'what can I do today?' Be proactive. This is me talking to myself. Nobody owes you nothing. All of this sitting on your arse…do it…thrive off the fact…all the best art comes from places of struggle. If life was an easy ride then you wouldn't be a creative in the first place. All of these things are what makes you who you are. Without getting too fucking deep…fucking hell we've been on a journey.
Interviewed & written by
MATHEW PRICHARD
Shot by
MATHEW PRICHARD